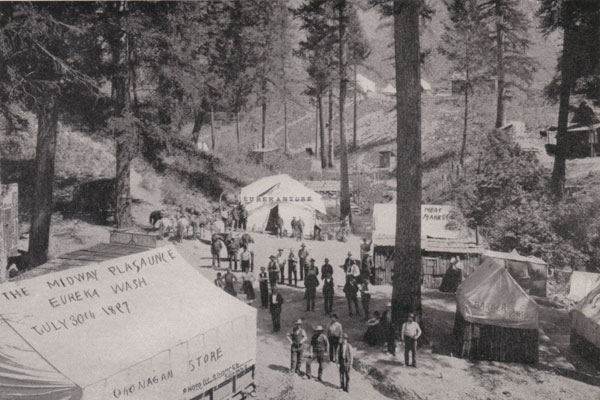 Republic in 1887, then called Eureka
The History of Ferry County's 110 + years of mining history is based upon its unique geological history and sustained by three major intervals of development. The first was the opening of the Colville Indian Reservation for mining exploration in 1896. Overnight, the mountain and valley rivers and streams rang with the sound of shovels and axes, the braying of pack animals and the feverish invasion of eager men struggling to withdraw hidden wealth from water, rocks and dirt. Gold fever brought in an accompanying wave of entrepreneurs and professional men who saw an opportunity to provide the services needed to build a mining community.
Within months small towns grew in isolated areas where gold bearing ore was located. The most productive locations were along Granite Creek and Eureka Gulch. Republic's second stage brought into the area investment bankers, mine companies, and transport systems that financed mine development which included costly machinery that enabled improved extraction and exploration. The third development proved to be the most difficult as gold for hard rock miners may be located in seams of quartz or removed from crushed rock utilizing a chemical milling process. The latter extraction method has taken many years to refine. The gold seams of the Republic mine brought the initial investment, but through the years more productive veins were located which culminated in the Golden Promise vein operated by Hecla.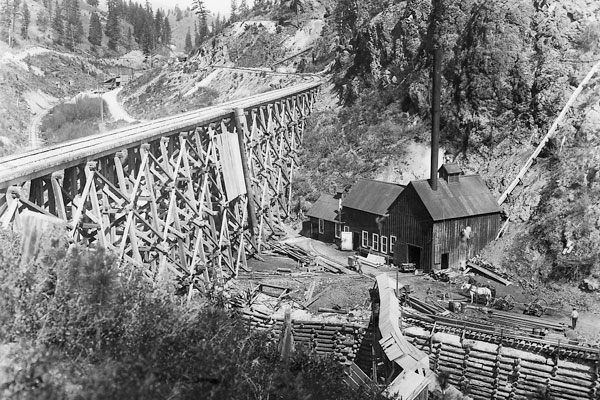 Quilp Mine and Trestle over the Gulch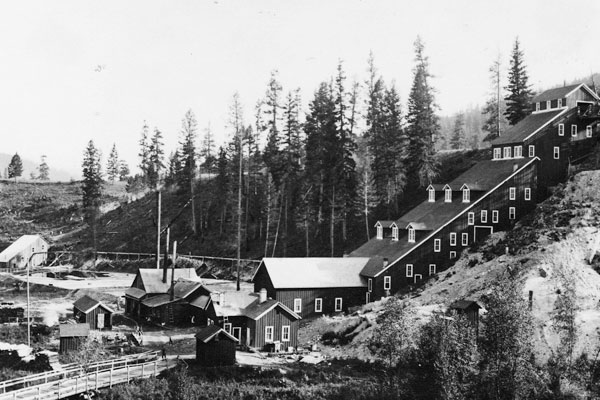 Patrick Clark's Republic Gold Mine and Mill
In recent years Echo Bay Mines and Mill (now Kinross) have successfully retrieved gold. Ferry County has been Washington State's most prolific producer of gold.
Purchase the publication "Eureka! There's Gold in Ferry County" by visiting our Shop page.
Get IN touch
(509) 775-2605
Visit Us
We are located across from the city park.
15-2 N. Kean Street
P.O. Box 287
Republic, WA 99166
Museum Hours
Memorial Day - Labor Day weekends:
 Museum
 Friday - Monday: 10 a.m. - 2 p.m.
 Slagle House
 2 Saturdays each month: 10 a.m. - 2 p.m.
Contact us with any questions!