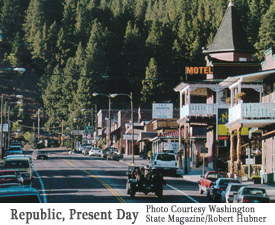 Publications & Information
Holstine, Craig E.
1987 Forgotten Corner: A History of the Colville National Forest, Washington
Colville Statesman-Examiner, Colville, Washington.
Hunt, Clair
1900 Clair Hunt's Homesteaders' Map of the Entire Colville Reservation.
Bossburg, Washington. Available on line from Washington State University's library, shows all Indian allotments on the Colville Reservation, including all of Ferry County.
Kettle River History Club
1976 Reflections of the Kettle River Region. The Orris Press, Grand Forks, B.C.
This book deals with the history of Bodie, Curlew, Danville, Ferry, Malo, Toroda and surrounding areas.
1984 Old & New Reflections of the Kettle Region Region. Don's Printery, Colville,
Washington.
This volume covers the same areas as the previous publication but includes more recent material
2012 Index: Volume 1- REFLECTIONS of the Kettle River Region (Blue Cover). May 1976, Volume 2-Old & New REFLECTIONS of the Kettle River Region (White Cover) 1984. Compiled by Bernard C. Parker.
This volume is an index of surnames of early residents mentioned in the two previous volumes.
Lakin, Ruth
1976 Kettle River Country, Early Days Along the Kettle River. Spokesman Review Inc., Spokane, Washington.
This work covers the early history of Barstow, Boyds, Cascade, Dulwich, Fort Colvile, Godfrey, Kelly Hill, Laurier, Napoleon, Orient and Rock Cut. It also has a section on local Native American groups, particularly the "Lakes" or Sinaikst.
Steele, Richard F.
1904 An Illustrated History of Stevens, Ferry, Okanogan, and Chelan Counties,
State of Washington. Western Historical Publishing Company, Spokane.
This is the most accessible contemporary source (1904) for early Ferry County events. It is a "vanity history" which means that a representative came around selling subscriptions for the book so that residents with a little money to spare could see their names in print. It presents a very optimistic view of everybody but occasionally misspells their names. It is often attributed to "Anonymous" but the author's name appears in the book's forward.
Walter, Edward M. and Susan A. Fleury
1985 Eureka Gulch; the Rush for Gold, a History of Republic Mining Camp 1896-1908, Don's Printery, Colville, Washington.
Much of this is reproduced from Steele's Illustrated History and much of it from an 1899 San Francisco tabloid called The Wave, available in the Northwest Room of the Spokane Public Library's downtown branch. It also includes biographical sketches of local residents, historic photographs, local geology, local industries and more.
Wilson, Bruce
1990 Late Frontier: A History of Okanogan County, Washington. Okanogan County Historical Society, Okanogan, Washington.
This deals mostly with Okanogan County but has good maps illustrating the various sizes and shapes of the Colville Reservation through time.
Woodhouse, Phil, Daryl Jacobson and Victor Pisoni
2012 Discovering Washington's Historic Mines. Vol. 5 Okanogan Highlands and Ferry County. Northwest Mining Publishers, L.L.C. Monroe, Washington.
This volume discusses individual mines with historic photographs, maps, diagrams, a glossary, an extensive bibliography and an appendix on the McCloghlin Canyon Battle in Okanogan County.
Get IN touch
(509) 775-2605
Visit Us
We are located across from the city park.
15-2 N. Kean Street
P.O. Box 287
Republic, WA 99166
Museum Hours
Memorial Day - Labor Day weekends:
 Museum
 Friday - Monday: 10 a.m. - 2 p.m.
 Slagle House
 2 Saturdays each month: 10 a.m. - 2 p.m.
Contact us with any questions!