National Register of Historic Places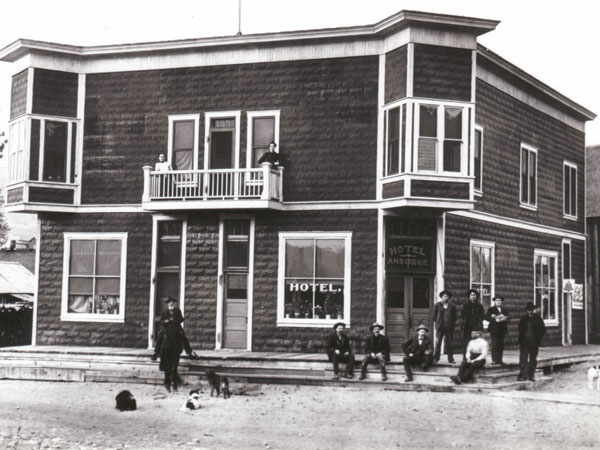 The Ansorge Hotel, Curlew, early 1900s
Curlew's Ansorge Hotel, named for its original owner, is the most visually striking building in the small town of Curlew. It boasts two stories, stamped metal siding, corner window bays and a balcony. The Ansorge was built in 1907 as a replacement for a less elaborate building of the same name that was moved and later used as a saloon. This was an unusually elegant and well equipped hotel for its time and place. Its amenities included a nickel-in-the-slot phonograph, a large, elegant dining room, two flush toilets and a bathtub. In addition to its physical characteristics, the Ansorge is important in local history for its relationship to railroad development, communication, the bootlegging industry and a very distinguished visitor.
The Ansorge was the hotel nearest the Great Northern Ry depot and was close enough to the track that the vibrations of moving trains were felt throughout the building. According to museum docents, there are no 90⁰ angles in the hotel because narrower angles were thought to be more resistant to vibrations. The business depended on Great Northern passengers for much of its clientele. These included many salesmen and an optometrist who tested his customers' vision in the upstairs hallway.
At various times the business included a bakery, a butcher shop, a stable, a feed store, and a barber shop which operated for many years in the hotel lobby. Between approximately 1912 and the mid-1950s the lobby housed Curlew's only long-distance telephone, much used by local residents.
During Prohibition, when liquor production and sale were illegal, illicit alcohol production and transport were thriving cottage industries here. Liquor barrels coming down from Canada were dropped into the Kettle River which flows through Curlew and were pulled out by local associates of the suppliers for distribution. This activity occasionally attracted the attention of federal law enforcement. When the "revenuers" were staying at the Ansorge the proprietors placed a red light in a second floor corner window to notify the bootleggers that barrel retrieval in town was not safe. Curlew's annual Barrel Derby celebration in June commemorates this practice.
The hotel register for 1917 includes an entry for one "Henry Ford, Detroit Mich." Local residents are sure that this is the Henry Ford of Ford automotive fame. A photocopy of the guest book signature, sent to Mr. Ford's museum in Dearborn, could not be positively confirmed as Henry Ford's, but he was known to be in the West at the time and had relatives in the area so it's likely that he did stay at the Ansorge, the best hotel in town.
It is unusual for an old hotel to retain its furniture, dishes and linens, but, thanks to generations of owners sensitive to its history, the Ansorge retains it all. This time- capsule feature makes the Ansorge special. So does its share as part of a perfect trifecta for visitors interested in U. S. automotive history: the hotel that housed Henry Ford; the Curlew Bridge, built for automobiles of his day and the Husky Car and Truck Museum that houses many early Ford automobiles.
Ansorge Hotel Address: 13 River Street, Curlew, Washington
Get IN touch
(509) 775-2605
15-2 N. Kean Street
P.O. Box 287
Republic, WA 99166
Visit Us
We are located across from the city park, next to the Stonerose Interpretive Center.
Museum Hours
Current Hours:
Monday - Friday, 10 a.m. - 2 p.m.
Masks required
Support us by Shopping with Amazon!