National Register of Historic Places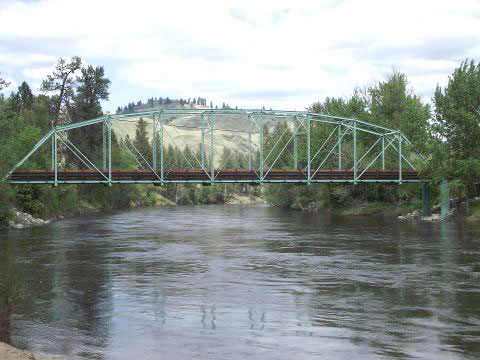 The Curlew Bridge over the Kettle River was built in 1908 by William Oliver of Spokane to replace the original bridge which was destroyed by a flood. The bridge site was previously the location of a cable ferry established in 1897.
This structure is a 182 foot steel pinconnected Parker truss bridge. The 1980 National Register of Historic Places nomination for "Historic Bridges and Tunnels in Washington State" states that "…the bridge remains virtually unaltered in an environment very similar to the one in which it was built… It is significant as a representative of a common truss type of the late 19th and 20th centuries." Although dismantled, extensively repaired and repainted early in the 21st century, it retains its integrity of location, use and materials and the statement in the nomination remains accurate. At the time of the nomination it was one of five of this bridge type built before 1910 still existing in the state.
Curlew Bridge Address: Ferry St, Curlew
Get IN touch
(509) 775-2605
Visit Us
We are located across from the city park.
15-2 N. Kean Street
P.O. Box 287
Republic, WA 99166
Museum Hours
Memorial Day - Labor Day weekends:
 Museum
 Friday - Monday: 10 a.m. - 2 p.m.
 Slagle House
 2 Saturdays each month: 10 a.m. - 2 p.m.
Contact us with any questions!