National Register of Historic Places
Fairweather – Trevitt House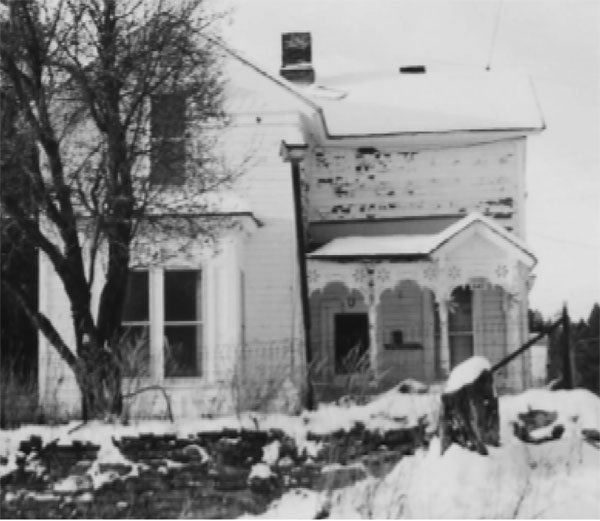 Note: The Fairweather-Trevitt House is privately owned, so please do not trespass or enter uninvited.
In addition to being one of the most elaborately decorated early homes in Republic, the Fairweather/Trevitt House is connected with two of the most interesting aspects of Republic's history.
The official date of the house's construction is 1902 but a laborer's lien from 1900 indicates that it was under construction at least two years earlier. In 1904 it was purchased by George Warren Fairweather, the second Freight and Passenger Agent for the tiny local rail line that fought Great Northern Railway magnate Jim Hill to a standstill in the courts of two countries and reached Republic in 1902 several weeks before the big American line arrived. The 38-mile local railway ran for twenty-some years under seven more-or-less official names but is best remembered by its nickname, the "Hot Air Line", conferred because its publicity was so much larger than the rail line itself.
The Hot Air Line originated in Grand Forks, British Columbia, just across the border from Ferry County. Many of its backers were Canadian so it's not surprising that Mr. Fairweather, a former Canadian Pacific Ry employee, and his family, came to Republic from eastern Canada. The Fairweathers had the house wired for electricity and probably installed the indoor plumbing system, one of Republic's first. Mr. Fairweather also installed a telegraph system, connected with the Hot Air's office two blocks away. This enabled Mr. Fairweather to teach his four sons telegraphy. It also makes the Fairweather/Trevitt house the only structure associated with the notorious Hot Air Line still standing.
Following some financial difficulty, the Fairweathers lost the house in 1915 and it passed through two owners to assayer Claude Trevitt and his wife, Effie Lee, who raised their family there. As an assayer, Mr. Trevitt was a participant in the mining industry responsible for Republic's existence and for many years its dominant economic activity. Much of his historic assay equipment is now exhibited in the Ferry County Historical Society's museum. Mrs. Trevitt died in the house in 1943, giving rise to ghost stories. After Mr. Trevitt's death in 1952 the house was purchased by Lee and Wanda Bowlby and it is sometimes known as the "Bowlby House". It is admired for its lavish decoration of "carpenter's gingerbread", still largely intact from the Fairweathers' day.
Fairweather-Trevitt House Address: 645 S Kaufman St, Republic, Washington 99166
Get IN touch
(509) 775-2605
Visit Us
We are located across from the city park.
15-2 N. Kean Street
P.O. Box 287
Republic, WA 99166
Museum Hours
Memorial Day - Labor Day weekends:
 Museum
 Friday - Monday: 10 a.m. - 2 p.m.
 Slagle House
 2 Saturdays each month: 10 a.m. - 2 p.m.
Contact us with any questions!