We are so grateful for your donation or membership!
We couldn't keep our doors open or maintain the history of our region without your help.
If you have any questions about your donation, don't hesitate to contact us using the information below.
Thank you for your support of the Ferry County Historical Society. Please Note: The Ferry County Historical Society is a tax-exempt organization under Section 501(c).(3) of the Internal Revenue Code. Contributions to FCHS are tax deductible to the extent permitted by law. Ferry County Historical Society has not provided any goods or services in return for your contribution. Our tax-exempt number is 51- 0157532. Please retain this information for the tax filing purposes.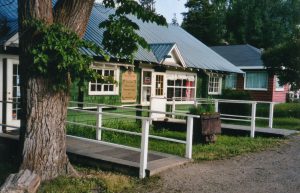 Get IN touch
(509) 775-2605
Visit Us
We are located across from the city park.
15-2 N. Kean Street
P.O. Box 287
Republic, WA 99166
Museum Hours
Memorial Day - Labor Day weekends:
 Museum
 Friday - Monday: 10 a.m. - 2 p.m.
 Slagle House
 2 Saturdays each month: 10 a.m. - 2 p.m.
Contact us with any questions!