Museums Open for the Summer
The Ferry County Historical Society's museum across the street from Republic's city park will open Friday May 26th.
The museum will be open from 10:00 am to 2:00 p.m. Friday through Monday through Labor Day. The museum features exhibits on Republic's early mines, businesses, roads, railways and indigenous crafts and food plants. The museum also serves as a center for tourist information.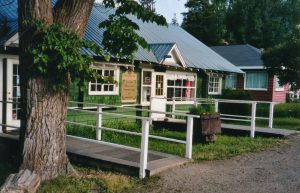 The J. W. and Elizabeth House Museum will be open on the 2nd and 4th Saturdays of June, July and August from 11:00 a. m. to 2:00 p. m. This is Republic's time capsule, a house occupied by one family from 1904 through the 1960s, a period of drastic change in America. Come in and see how they handled it. The Slagle House is located at the corner of 9th and Keller, one block east of Republic's main business street.
Volunteers are needed to operate both museums. If you think we should have a museum, please volunteer. We can't do it without you! Please give what time you can. Museum Volunteers do not have to be FCHS members. We depend on volunteers to remain open. Training is available. You don't have to go in cold.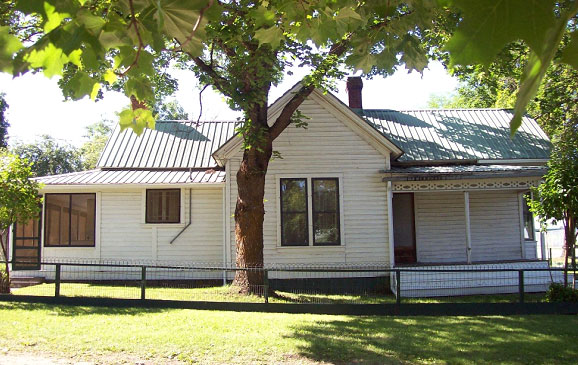 Mysterious Materials
The FCHS's collection of historic objects has long included five small bottles of unidentified dark liquid, old enough to be closed with small corks, one of which leaks enough to emit a strong smell. Being unable to identify their contents, we didn't know what to do with them. This collection of mystery materials was expanded by acquisition of several unlabeled cans of what appear to be powdered chemicals from the late Claude Trevitt's assay office. We have been unsure what to do with any of these materials.
The bottles and samples of the powders have been delivered to the University of Idaho where chemist Dr. Ray Von Wandruszka and his graduate students identify mysterious unknowns, usually from Archaeological sites. This service is free. Thanks to U. of I. Archaeologist Dr. Mark Warner, Dr. Wandruszka and his crew for taking on our mystery!
L. H. Mason Building
The Board had hoped to give readers something definite on efforts to sell or otherwise arrange a future for the building but there is nothing final in writing yet. Our new attorney, Hunter Abel, is working with the FCHS Board and the City Council on an agreement proposed by the City.
Donors who contributed funds for adapting the building for a museum have been contacted inquiring if they would like their donations returned. Most have opted to let the FCHS apply the funds to other needs. If you have been contacted and have not responded, please do so now. Rumors are apparently rampant in Republic and will eventually be addressed. Paid up members, the people who have more than opinions invested in the FCHS, will receive a letter soon describing our options. Please read it!
Grant Funded Purchases
The $5,816.40 Washington State Department of Commerce Covid Relief grant received by the FCHS must be spent by June 30th. The Board determined that the funds were best spent on upgrading the equipment used to digitize and preserve historic photographs and records. Our photographic collection is an important record of Ferry County's history and a popular item for visitor purchases. Our purchases include a digital camera, a laptop for photograph storage, a laptop for the Treasurer's records, computer programs and hard drives for backup, a scanner and a frost free freezer for proper storage of our many photographic negatives. These items have arrived and we are learning how to use these improvements on our records and photograph storage.
Annual Membership Meeting
The FCHS annual membership meeting was held at the Republic Brewing Co. on March 21st. It was attended by only 14 members out of a total membership of 102. There was much discussion of plans for the L. H. Mason Building. A vacancy on the Society's Board of Trustee's was announceand members were encouraged to volunteer for it but there was no interest. The position is still open. If you want to help shape the future of the Ferry County Historical Society this is your chance. If interested please call President Madilane Perry at (509) 775-2605.
The Ferry County Historical Society is a nonprofit organization 501(c)(3) which places its primary emphasis on preserving & exhibiting artifacts related to the rich history of Ferry County. Visit our small self-touring museum, located at 15-2 N. Kean Street in Republic (across from the city park). Mining and geology displays are featured, along with a Native American exhibit and an array of interesting photographs of local turn-of-the-century businesses and activities.